Want to see who is at the gate within the safety of your home?
We proudly offer to supply and install a wide range of Intercom System allows you to see who at your front gate and provide you with advanced security.
NOTE: All pricing is valid for single storeys with manhole access. The intercoms will require use of a General Power Outlet. Door station will be at the front door and Monitor will be inside the house. Unless your double storey home is in the framing stage or has been prewired / older system, we won't be able to assist with this. If you require a door station at the gate, please organise your electrician to prewire the cable to the gate. Other custom install questions, please contact us.
DAHUA 2 WIRE INTERCOM SYSTEM Fully Installed from $990 Fitted Including Cables & Labour
Aluminum alloy front panel
Offers video intercom which communicates through half-duplex.
2MP CMOS FHD Camera 110 degree wide angle and auto IR illumination
7″ TFT capacitive touch screen
Video messages can be left for unanswered calls. (SD card is required for VTH.)
Mobile phone app access for notification
Support for 2 locks
IP65 and IK07 rated
ONLY COMPATIBLE FOR 2 WIRE CABLING/EXISTING SETUPS
Double storey fee (if not prewired) – $275 (GST Inclusive)
Panasonic 2 Wire Intercom System – from $990 inc GST installed
Panasonic 7″ Colour LCD Screen
Panasonic weatherproof door station
Has memory function – up to 50 messages
Door release button
Additional monitor – 440 (GST inclusive)
Double storey fee (if not prewired) – 275 (GST Inclusive)
12 Months WARRANTY
Golmar Soul 2 Wire Intercom with Phone Connectivity from 1450 inc GST fitted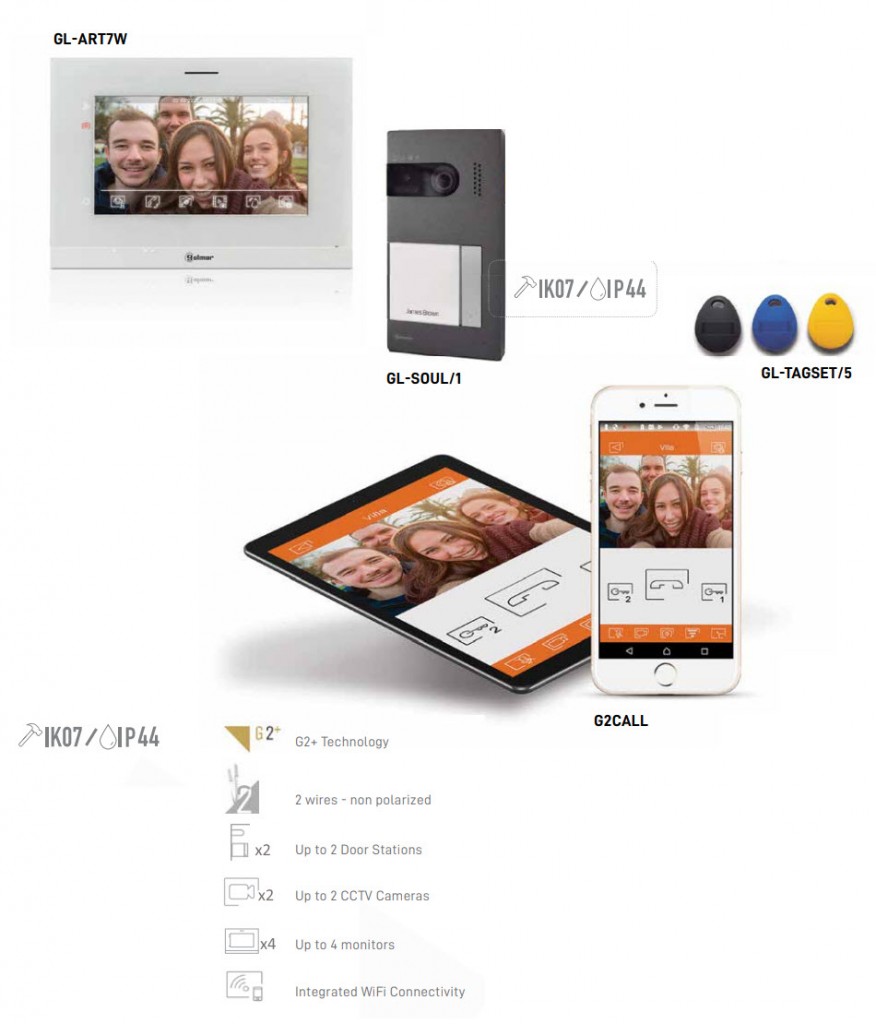 SMART VIDEO INTERCOM KIT
2-Wire Technology
Smartphone Connectivity
A Smart Wifi, two wire digital door access installation which provides a high quality system with great features, easy wiring and an intuitive user interface. Ability to communicate with the person at the front door station with your phone / tablet when you're away from home.
7" touchscreen monitor with integrated WiFi.
• Vandal-resistant outdoor door station with a single call button.
• Power supply
MADE IN SPAIN
ONLY COMPATIBLE WITH 2 WIRE CABLING
An IP Intercom system allows you to view who is at the door via your smartphone. If you have a door strike in place, it also has the ability to unlock the gate via your phone.
The door station is operated simply via a single button whilst the indoor monitor uses a touchscreen. The system supports remote unlock, missed/placed/received call details, visitor audio/video messaging and group calling functions
Dahua 7inch Touch Screen IP Intercom Kit
1 x Dahua DHI-VTO2202F-P 2MP Villa Outdoor Station
1 x Dahua DHI-VTH2421FW-P 7inch Touch Screen IP Indoor Monitor
1 x Dahua DH-PFS3005-4ET Poe Switch
1 x Dahua DH-AC-VTM115 Surface mount bracket for VTO2202F-P
$495 for an extra door station
$700 for an extra monitor
Pricing valid for single storey homes or prewired double storey homes.
Other Intercoms
We also have a massive range of intercom systems available, including IP based intercoms which allow you to see who is at the gate on your phone! Send us some pictures of your existing and see what upgrade is available
Expert Installation
The best security system in the world won't help if it's incorrectly installed. Our installation experts are highly trained and certified, to ensure your Security system is customized to your specific needs, and that it functions perfectly. We will also explain clearly how it all works and answer any questions you may have.
Contact us today to speak to a technician about the right INTERCOM system for you.