Want to see who is at the gate within the safety of your home?
We proudly offer to supply and install a wide range of Intercom System allows you to see who at your front gate and provide you with advanced security.
NOTE: All pricing is valid for single storeys with manhole access. The intercoms will require use of a General Power Outlet. Door station will be at the front door and Monitor will be inside the house. Unless your double storey home is in the framing stage or has been prewired / older system, we won't be able to assist with this. If you require a door station at the gate, please organise your electrician to prewire the cable to the gate. Other custom install questions, please contact us.
Dahua 4 Wire Video Intercom Kit – $850 inc GST fully installed (single storey only)

· Screen dimension: 7 inch
· Video intercom function: Unlock, voice call, video call, volume
adjustment, and doorway monitoring
· Quantity of voice intercom and video intercom: 2 voice intercoms + 3
video intercoms
Spec sheet VTK-VTO2010D-VTH2020DW
Additional monitor = $390
Additional door station = $350
Dorani 700 Series – $985 Fully Installed (4 wire system only)

Comes with 1 door station and 1 monitor.. Monitor has memory functions. (please choose a colour)
Additional monitor = $440
Available in Black or White monitors
LEDs for night vision mode
12 Months WARRANTY
The Dorani Touch is the latest system from Dorani.
$1265 Installed (2 & 4 wire systems).
Price assumes single storey house or prewired double storey home.
If the single or double storey have been prewired, then you may subtract -$100 from the price.
Comes with 1 door station and 1 monitor
Additional monitor = $450
LEDs for night vision mode
12 Months WARRANTY
An IP Intercom system allows you to view who is at the door via your smartphone. If you have a door strike in place, it also has the ability to unlock the gate via your phone.
The door station is operated simply via a single button whilst the indoor monitor uses a touchscreen. The system supports remote unlock, missed/placed/received call details, visitor audio/video messaging and group calling functions
Dahua 7inch Touch Screen IP Intercom Kit
1 x Dahua DHI-VTO2202F-P 2MP Villa Outdoor Station
1 x Dahua DHI-VTH2421FW-P 7inch Touch Screen IP Indoor Monitor
1 x Dahua DH-PFS3005-4ET Poe Switch
1 x Dahua DH-AC-VTM115 Surface mount bracket for VTO2202F-P
$495 for an extra door station
$700 for an extra monitor
Pricing valid for single storey homes or prewired double storey homes.
Door Station Specification Sheet / mount spec sheet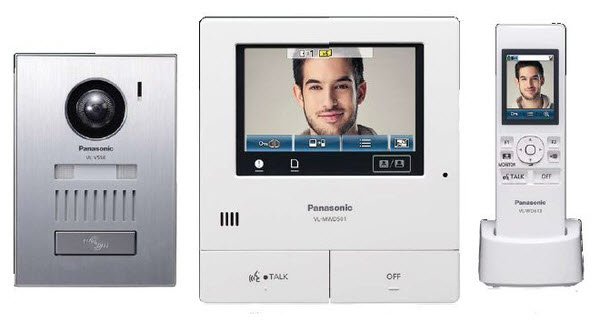 Package Snapshot:
> Wireless Handset – Check visits from anywhere. UP to 6 wireless monitor connectable. Max wireless range is 100m with no obstacles. You can add on repeaters expand the range. UP to 2 DECT repeater connectable
> Large Touch Panel: The main monitor has a large, 5 inch wide screen that clearly shows each visitor's face. You can simply touch the screen to activate an• .approximate 2x zoom horizontally and vertically
> Electric Lock Release Support for Gate: The gate or door lock can be easily and quickly released even from the second floor of the house• .
> Wide-Angle Camera: Wide-angle lens covers approximately 170 degrees horizontally and 115 degrees vertically• .(SD Card Recording: Automatically record video images of visitors to SD card. It will record up to 3,000 visitors (30 seconds per visitor• (.The SD Memory Card is sold separately)
> Night Vision: Door Station is equipped with LED lights (illumination lamp). It enables the colour display of visitors at a distance of about 50 cm at night

Extras
Door strike / release option – 440 (GST inclusive)  additional costs depend on distance of gate from house as underground cabling is required.
Additional wireless monitor – 490 (GST inclusive) – Additional wired monitor – 550 (GST Inclusive)
Additional door station – 495 (GST inclusive)
Other Intercoms
We also have a massive range of intercom systems available, including IP based intercoms which allow you to see who is at the gate on your phone! Simply make an appointment with us and we'll come out and show you what we've got available.
Expert Installation
The best security system in the world won't help if it's incorrectly installed. Our installation experts are highly trained and certified, to ensure your Security system is customized to your specific needs, and that it functions perfectly. We will also explain clearly how it all works and answer any questions you may have.
Contact us today to speak to a technician about the right INTERCOM system for you.